Renting an apartment has its pros. For instance, you never have to worry about yard work or putting effort into the exterior of your home. The tricky part, however, is maximizing the space you are given and making the most of your living space. For many people, one of the biggest problems with renting is dealing with a small apartment bathroom. Our latest blog provides helpful tips for making your apartment-sized bathroom more functional and aesthetically pleasing.
Go Easy On The Accessories
In accessorizing your bathroom, it is easy to go overboard and clutter your bathroom with unnecessary items. While it may be tempting to go all out on the decorations, we recommend taking the time to select a few statement pieces as opposed to an overkill of decorative items. A clutter-free design allows for a more functional space and the appearance of a bigger space. Take your time sourcing items that best fit your aesthetic preferences. With the right items, you can achieve any look.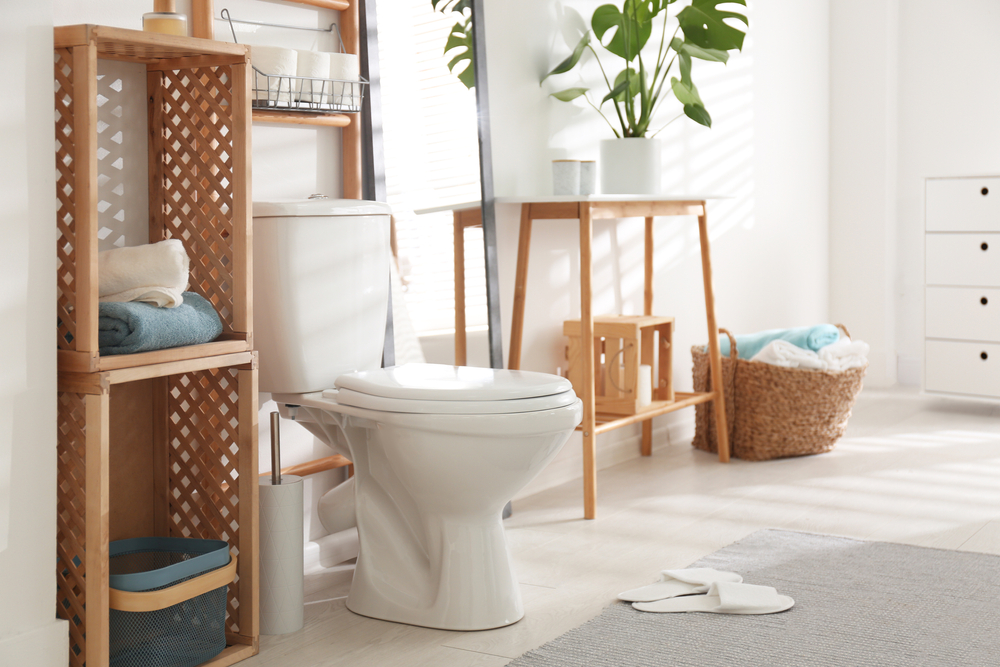 Choose Functional Items
Speaking of accessories, when shopping around for items for your bathroom, consider selecting functional statement pieces. For instance, skip the plastic laundry hamper for a woven one, install geometric shelves that can double up as a visual focal point and as a place to stash your things, switch the old knobs on your shelves to something more you, perhaps something with color, design, or texture, etc. Being mindful about the things you bring into your space is the ultimate key to maximizing any bathroom, regardless of size.
Allocate a Place For Everything
When moving into a new apartment, assigning a place for everything is necessary to help keep you organized. An organized system will allow you to keep track of your things and know where they are when you need them. And on top of that, having a place for everything will allow for easier cleaning.
Lighten Up Your Bathroom
Lightening up your space can help make your small bathroom feel more spacious, airy, and relaxing. There are different ways to lighten up your bathroom. You can do this by selecting bulbs appropriate for your space, employing specific colors in your design, and using plants. Generally, cool bulbs with a color temperature of 3500K to 4100K are ideal for bathrooms. Cool bulbs mimic natural lighting and come in handy when getting ready in your bathroom-think, better makeup application. Lighter or neutral-colored linens and decor can make any bathroom appear bigger, lighter, and airier. Plants are a great element to implement in any part of your home, especially in the bathroom. Use plants to liven up a space and create a more relaxing environment.
Keep It Clean, Keep It Tidy
Less mess, less stress. Keeping your bathroom clean and tidy is the ultimate key to a more functional and aesthetic bathroom. One of the easiest ways to do this is by keeping your clothes off the floor, your countertop clear of clutter, your mirror sparkling, the shower scum off, etc. Doing all this will keep your bathroom fresh and, in turn, keep you refreshed!
SD Flats offers an urban studio-style community in an unbeatable location, downtown San Diego, CA. While our studios are on the smaller side, we have all the right tricks and tips to help you make the most of your life downtown. Are you looking to move anytime soon? Check out our communities, Island Flats and J Street Flats. For more information, call (619) 232-4138 (Island Flats), (619) 696-6922 (J Street Flats), or click here.