We have to admit; San Diego is one of the most outstanding cities in the US. Whether you're moving here from another state or you're a California native looking for a new city, moving to San Diego is exciting! We've created a downtown San Diego moving guide for renters to help make sure your transition goes as smoothly as possible. We'll go over the different neighborhoods in the area, transportation, jobs, and entertainment!
Different Communities in Downtown San Diego
Downtown San Diego Columbia District: 

This district has experienced the most development in the last 20 years, offering some of downtown's most exclusive waterfront locations. It's near some popular coffee shops, lounges, and the highest-rated restaurants.

Downtown San Diego Marina District:

 The Marina District is a tranquil neighborhood, surrounded by dining and entertainment options in every direction. It has two grocery stores and a variety of parks within the community. Marina District borders the Columbia District and Gaslamp District, giving you easy access to all of their amenities just a few minutes' walk away. You'll get the modern facilities and luxuries without all the noise of the busier areas. It's also the home of 

SD Flats

!

Downtown San Diego Little Italy District: 

Little Italy has transformed over the last 50 years into one of the trendiest neighborhoods in the area. The district is known for its restaurants, ice cream shops, and coffee shops. It's a popular tourist destination, so it's quite busy during the day and the night.

Downtown San Diego East Village District: 

East Village is the largest neighborhood in the area and is going through the most redevelopment as it grows east. Petco Park is located in this area, along with many sports-themed bars, making it ideal for sports enthusiasts!

Downtown San Diego Gaslamp District: 

Gaslamp District is downtown San Diego's entertainment center. There's a high concentration of bars, restaurants, and nightclubs, all within a few blocks. It's a popular spot for tourists and business travelers, as the San Diego Convention Center is across the street. This neighborhood is very active during both the day and night. 

Downtown San Diego Cortez Hill District: 

Cortez Hill is one of the quietest downtown areas, with a limited number of shops, restaurants, and offices. It's not as active as the other neighborhoods but is still within walking distance of Little Italy's entertainment and dining options. 
Downtown San Diego Transportation
While most people in San Diego travel by car, downtown is relatively easy to get around without one. To avoid traffic and the hassle of parking, you can walk or take the San Diego Trolley to get around downtown quickly. If you have your own vehicle and your new to the city, we recommend factoring in time for rush hour and being prepared to pay for a meter if you can't find a free spot. If you want to venture outside of downtown without a car, San Diego's buses or rideshares like Lyft and Uber will be your best friends. Thankfully, San Diego has several freeways and plenty of highways, making it easy to navigate around the city. The average commute time for work is around 24 minutes, which is much better than the 32-minute commute in Los Angeles.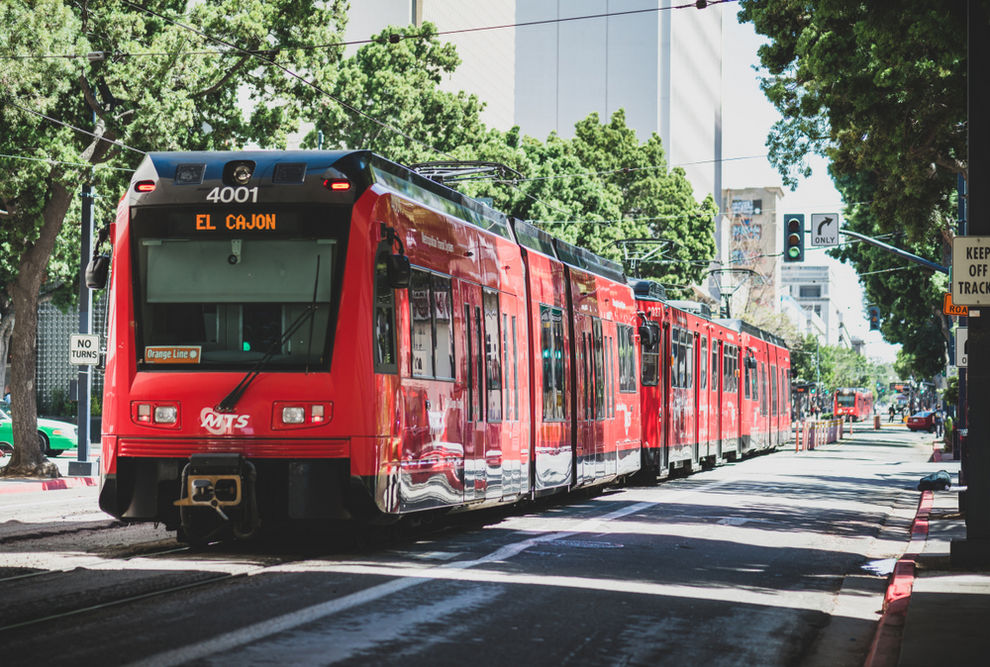 San Diego Job Market
If you're moving to San Diego without a job lined up, you can take a deep breath and relax. There are tons of options to choose from, as San Diego has a thriving job market! Downtown is known to have the most tech and finance jobs in the area and has plenty of restaurant, creative, service, and bank jobs. Some of the largest industries in San Diego include technology, health care, manufacturing, research, defense, military, and international trade.
Nearby San Diego Attractions
After spending the day moving, it's time to have some fun! No matter how long you stay in San Diego, there will always be a surplus of things to do. If you're staying downtown, you can swing by the Petco Park Stadium and catch a Padres game. If you're looking for history, fine arts, or live performances, downtown has it all! You can get your fix at Balboa Park, the Museum of Contemporary Art, San Diego Musical Theater, and plenty of other places! Foodies will find no shortage of dining opportunities, from food trucks to fine dining and a thriving craft beer and wine scene. 
We hope our downtown San Diego moving guide for renters gave you a glimpse at what living here is like! To check out some more tips like this, you can click here to visit our blog. If you're looking for a fully furnished urban apartment in the heart of downtown San Diego, SD Flats is for you! You can reach us by calling Island Flats at (619) 232-4138 or J Street Flats at (619) 696-6922 or contact us through our website.